7/23/2014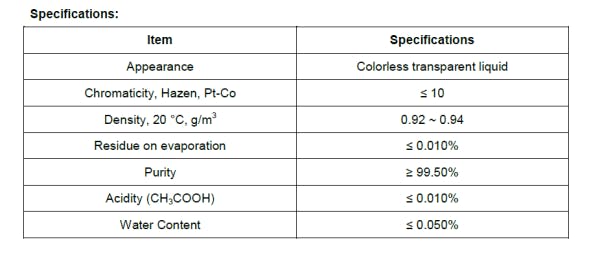 If you are looking for a fast evaporating solvent with a mild odor, look no further than methyl acetate. It is commonly used for industrial cleaning and surface preparation, as well as an active solvent for coatings and ink resins. Methyl acetate's main users include the paint, coatings, automotive, cosmetic, and textiles industries. Additionally, it can be used as an alternative to acetone. 
Coatings
Methyl acetate is compatible with a vast number of resins. It is an active, miscible solvent that can either be used alone or in blended systems.  With the capability to evaporate quickly, methyl acetate is an ideal solvent when quick dry-to-touch time is required. This is particularly useful in automotive and furniture applications.
Using methyl acetate helps improve the performance of aerosols and other moisture-sensitive coatings. An added benefit of methyl acetate is its ability to extend the shelf life of coating systems and reduce product waste. This is mainly due to its low tendency to attract moisture. Methyl acetate can also help reduce the risk of visual flaws and defects in coatings that are applied in humid conditions.
Industrial Cleaning and Surface Preparation         
Methyl acetate is VOC exempt, non-HAP, and is biodegradable, making it an environmentally friendly choice for industrial cleaners. Traditionally, focusing on producing environmentally safe products meant sacrificing the overall effectiveness of the product. Methyl acetate is able to remove heavier contaminants because of its excellent solvent activity and higher density while also protecting the environment.
The hydrophobic characteristics of methyl acetate help prevent moisture-related problems, such as damaged or corroded parts. These same hydrophobic qualities allow cleaning products to maintain their effectiveness when they come in contact with water. Using methyl acetate instead of acetone in industrial cleaning solutions can reduce cost and provide added performance benefits in some applications because of methyl acetate's higher flash point and hydrophobic properties.
Additional Information
Methyl acetate can also be used as a solvent in glues, paints, and nail polish removers. Additionally, it is used to manufacture cellulose adhesives and as a relational solvent in dye production.
When compared to other fast evaporating solvents, methyl acetate gives the solution a slightly higher viscosity than acetone but lower than ethyl acetate or methylene chloride.
Aal Chem has methyl acetate packaged in 396.83 lb. drums available in inventory. To request a sample or additional information including pricing on methyl acetate, please make a request on one of our contact forms.