7/12/2012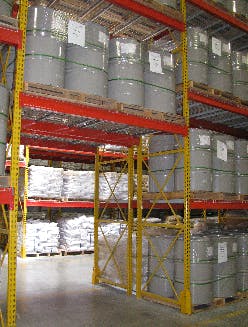 Parachlorobenzotrifluoride is a mouthful.  Some might prefer PCBTF, 4-chlorobenzotrifluoride or maybe oxol 100.  No matter which way you say it, Aal Chem has noticed a trend: the need for PCBTF.  We have had several customers call for material: some old and some new. With the growing demand for PCBTF material, also known as oxol 100, parachlorobenzotrifluoride or 4-chlorobenzotrifluoride, we thought it was time to see what the big deal was.
What's the Big Deal?

PCBTF is growing in popularity with its widespread uses in several applications. Not only can PCBTF be used as a cosmetic stain remover or aerosol rust inhibitor, it is noted as a newer "green" solvent currently exempt from the EPA's Clean Air Act Regulation, this chemical compound it also commonly recognized as a solvent for ink.  It is colorless with a distinct odor presence.  It is a solvent faster than toluene and used in lower quantity than most solvents with a 22:20 gram of ink to solvent ratio.  That's impressive enough, but more important, this powerful tool is a VOC exempt solvent or a "green" alternative to many solvents on the market.  This alone makes a significant difference to any coating company working to reduce their VOC's.
VOC reduction isn't just important, it is critical.  VOC is an abbreviation for Volatile Organic Compounds that are released in the form of a gas.  The use of most paints, strippers, inks, adhesives and more mean you are exposed to the emission of VOC's from any number of products, particularly concentrated if you work with the products in doors or in confined spaces.  These emissions put you, your employees and the environment at risk for potential short or long-term adverse health effects.

PCBTF is an exempt solvent and can be used in many coating formulations without being counted as a VOC.  This product works very well as a replacement for many solvents, often producing the same finish while still meeting VOC requirements.  According to the PCI article, Formulation Strategies Using Exempt Solvents: Latest Developments," PCBTF has been adopted by the coatings industry because of its unique position among the growing list of deregulated materials as a reliable, medium boiler of good solvency for a very wide spectrum of coating resins.  If parachlorobenzotrifluoride is not as broadly efficient a solvent as other delisted materials (acetone), it is sufficiently so in most of the newer, low-molecular-weight polymers (alkyds, epoxies, urethanes, polyesters, even acrylics) so that most formulators find significant utility in compositions based on these systems."  

Additional benefits of PCBTF are that it has a higher flashpoint than both acetone and methyl acetate which increases the time for evaporation.  That means less product used for a longer period and that equals money. Whether the product is caulk or adhesive, degreasers, paints or coating producers are finding the benefit of this non-corrosive and stable compound to be invaluable.  
Do YOU need PCBTF?
Aal Chem stocks PCBTF (our Oxol 100) in drums and totes, shipping from our headquarters located in Grand Rapids, Michigan. You may view our Technical Data Sheet as well as request a quote or samples.