8/1/2013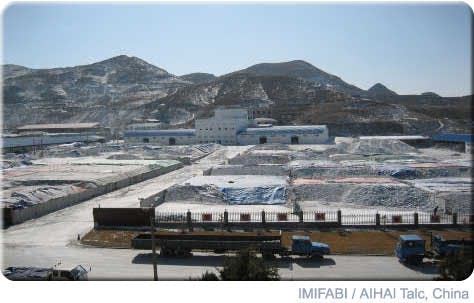 Chemical distributor, Aal Chem, has been appointed as the new distributor for IMI Fabi Talc, effective August 1, 2013. With over 50 years of experience, IMI Fabi is a leading Talc manufacturer based out of Benwood, West Virginia, with mining and milling locations around the world. With facilities on four continents, IMI Fabi is a global source for quality and performance.
Aal Chem is excited to share in this new partnership with IMI Fabi. Aal Chem's territories for IMI Fabi include Michigan, Ohio and Kentucky, with plans to expand in the future. Aal Chem currently services the United States and Canada, focusing on the paints and coatings, industrial, ink, and adhesives markets. 
What is Talc? 

Talc is rock. More specifically, Talc is a hydrated magnesium silicate, belonging to the subclass of phyllosilicates (also known as sheet-silicates).
The main characteristics of Talc include:
          - Naturally hydrophobic and organophilic
          - Inert and resist very well to acids and alkalis
          - Softest mineral in the world
          - Excellent electric and thermal insulator
          - Neither inflammable nor explosive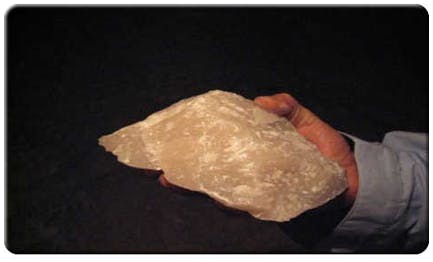 Other important characteristics to take notice are Talc's crystals and purities. Talc crystals are thin lamellae, forming various morphologies and various colors from white, to pink, green, grey or black. Talc also comes in various forms of purity and lamellarity, which can be found globally with deposits on every continent.
Thanks to these characteristics, Talc is a mineral of choice in many industrial uses including paint, coatings, plastics, putties, and ceramics.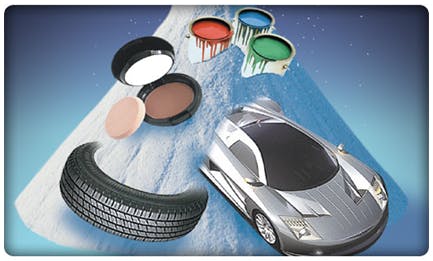 Other Uses and Industries

Industries that utilize Talc include paints and coatings, plastic, paper manufacturing, food, pharmaceuticals, electric cable, cosmetics, rubber, and ceramics, etc.
Talc has a wide variety of uses, primarily as filler in several industries and applications. Talc can be used as filler in paper manufacturing, improving the brightness and whiteness of the paper, as well as the papers ability to absorb ink. In the paint industry, Talc is used to improve the suspension of solids in the can, where in ceramics, it helps to improve the firing characteristics of the green ware and the strength of the finished product. In the plastics industry, using Talc as filler can increase the stiffness and heat resistance, and also reduce shrinkage.
Other uses for Talc include astringent in baby powder, food additive or used like chalk to keep hands dry while playing basketball. Because of Talc's ability to absorb moisture and odor, it is used in a variety of cosmetics and antiperspirants.
Where is Talc used and what for?

Talc's Role in the Paints & Coatings Industry

Talc is used in several areas of the paints and coatings industry. Some applications include use in exterior and interior architectural paints, as well as architectural, industrial, and specialty coatings, including wood stains and industrial/OEM applications. IMI Fabi talcs are specially designed to enable low VOC formulations, which add appeal when formulating with paint applications.
In paint products, talc is largely seen as an extender mineral. It improves dry hiding, matting effects, and cracking and corrosion resistance.
Not only does talc cut costs down, but its durability is another contributing factor to its popular use in coatings.  Its rust inhibiting and corrosion resistant characteristics help to provide a superior finish and extended life in paints. Talc also improves durability and weather-ability by acting as a film reinforcement and moisture barrier.
Other applications used for coatings are related to colorants and pigment strength. Talc can be used to suspend pigments maximizing their tinting strength in paints.
Fine grades are ideal as titanium dioxide extenders, and are used in sanding primers and in maintenance coatings. The finest products are used as gloss and sheen materials in both architectural and industrial coatings.
Talc's Role in the Plastics Industry

Talc's role in plastics is widely used as a cost-effective filler that adds strength, stability and durability. Acting as a high functional additive, it enhances plastic properties, providing improved barrier properties including anti-blocking and reinforcement.
Talc also improves chemical, UV and thermal resistance. Its lightweight nature helps to keep plastic light in comparison to other fillers. These properties help extend the outdoor life of many plastics.
The differences in certain talc properties – such as size, particle shape and aspect ratio – play a major factor in optimizing these properties.
 If you're interested in a quote, samples or literature on our new line of our new line TALC, please make a request on one of our contact forms.