2/16/2016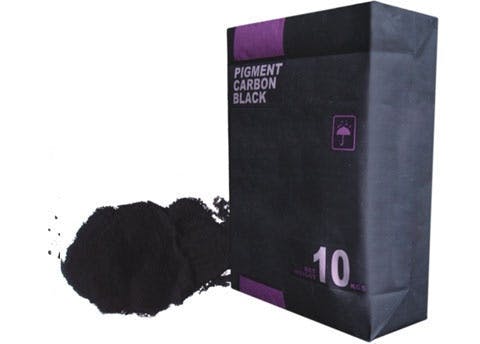 Carbon black pigment is highly effective and used in paints and coatings, synthetic leather, printing inks, plastics, and even adhesives and sealants. It is available in either a fine powder form or bead form.
Our supplier, Black Diamond, is one of the top carbon black pigment suppliers in the world. The 
company's products are sold in over 70 countries and they are a key influencer and developer of China's carbon black pigment standards. Black Diamond holds nearly 20 patents and boasts over 10 years in the carbon black pigment industry. Their facilities have a production capacity of 15,000 MT and the company is in the process of expanding and building a new facility.
Carbon black pigment (CAS: 1333-86-4) is made from an incomplete combustion of hydrocarbons such as petroleum. Essentially, carbon black is almost pure elemental carbon combusted under very controlled conditions to create the fine powder or beads. While over 8 million metric tons per year are produced worldwide, almost all of this is devoted to rubber application, while about 10% is used for pigment.
As a pigment, carbon black excels at producing a strong black coloring. It has a better tinting strength and hiding power than most pigments, and is more durable under light, chemicals, and heat. The pigment reflects almost no light in the visible spectrum making it ideal for providing a deep black color. On the Color Index this product is listed as Pigment Black 7 or PBk7.
Black Diamond has developed a varied carbon black pigment line to suit specific pigment needs. Their trademarked brands include PowCarbon (powder form) and BeBlack (bead form). These product lines provide many variations that differ in particle size, tinting strength, DBP oil absorption, surface area, and pH value, in order for customers to make highly specified selections.
If you have any questions about pigment carbon black or Black Diamond, please contact us. We are happy to provide product information, samples, or pricing.