2/7/2012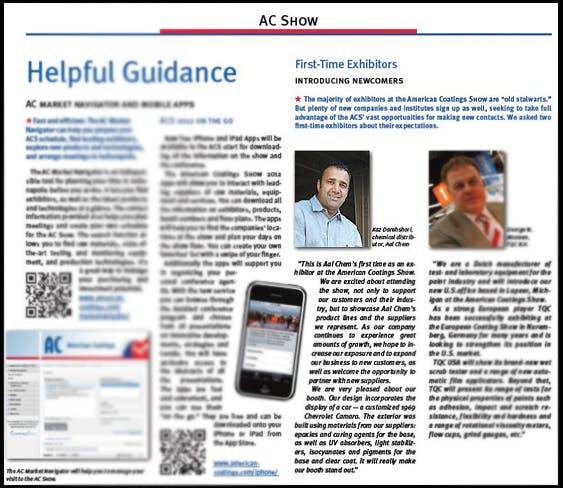 Aal Chem is excited to announce that we will be an exhibitor at the 2012 American Coatings Show in Indianapolis, Indiana. We will be co-exhibiting with our main epoxy resin supplier, (and the 3rd largest in the world!) Kukdo Chemical. 
As deadlines are approaching fast with the show just a few months away, (May 8-10, 2012) we are busy preparing the final details of our booth. As a first time exhibitor, we wanted our booth to be unique and memorable among those big names - BASF, Huntsman, and DOW Chemical to name a few. 
And a memorable one it will be! Aal Chem/Kukdo's booth incorporates the display of a car - a customized 1969 Chevrolet Camaro. The exterior was built using materials from our suppliers and will help our booth be the focal point of the show.
The folks over at the AC Show caught the buzz about our booth design and featured Aal Chem in their American Coatings Show 2012 Preview booklet. Take a look at Aal Chem in this editorial featuring our president, Kaz Darehshori.
American Coatings Show Preview 2012
Be sure to mark your calendars for May 8-10, 2012 to visit Indianapolis, IN, USA to see Aal Chem and Kukdo Chemical together, as well as the best in the coatings industry.
Look for us at the show, booth# 1661! 
For more information on the AC Coatings Show American Coatings Show 2012.